"A drought on her waters; she has been engulfed with tumultuous waves"
Iraq shall be ultimately uninhabited, because she will become a "parched land and a desert" (Jer 51:43). And she will become a desert, because Jeremiah decrees a "drought on her waters, and they will be dried up!" (Jer 50:38). And again: "I shall dry up her sea and make her fountain dry" (Jer 51:36). And what is Iraq's "sea" and "fountain"? It is the
Euphrates and Tigris rivers
. These two rivers are interconnected throughout Iraq by an "
elaborate network of canals
" that control flooding and provide irrigation for agriculture in the alluvial plain between them. The Iraqi dams not only provide hydroelectic power, but also act to divert the rivers' water into lakes and channels to protect the cities from flooding.
Flooding. "The sea has come up over Babylon; she has been engulfed with its tumultuous waves. Her cities have become an object of horror, a parched land and a desert, a land in which no man lives, and through which no son of man passes" (Jer 51:42-43). And so Jeremiah is told by God: "(A)s soon as you finish reading this scroll, you will tie a stone to it and throw it into the middle of the Euphrates" (Jer 51:63).
It is interesting that the locals call the reservoir behind the Ataturk Dam on the Euphrates in southeast Turkey "
the sea
." This dam is "one of the world's largest earth-and-rock fill dams, with an embankment 604 feet (184 m) high and 5,971 feet (1,820 m) long" according to the
Ataturk Dam
website. Here's a picture of this earth-and-rock fill dam: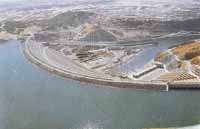 There used to be an earth-and-rock fill dam near where I live. It was called the Teton Dam. It "
failed abruptly
" on June 5, 1976. Here's a picture of it collapsing:
There is a fantastic slide show of the entire failure in progress at this site: "
Teton Dam Failure.
" The downstream communities of Rexburg, Wilford, Sugar City, Salem and Hibbard were severely affected, with Sugar City being literally "
wiped from the river bank
" and 80% of Rexburg destroyed.
This is what the site looks like today, 30 years later:
Ironically, the Bureau of Reclamation built the dam for "
flood control.
"
Labels: Judgment 8 - Flood, Judgment 9 - Drought