Kurds hope oil boom will fuel prosperous independent future
theguardian.com Luke Harding and Fazel Hawramy in Irbil
The Guardian, Monday 14 July 2014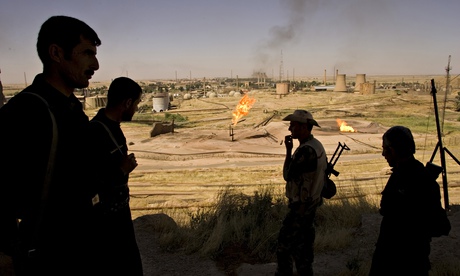 The Kirkuk oil fields. Last month Kurdish fighters moved into the predominantly Kurdish city of Kirkuk in northern Iraq and other disputed territories, saying they were defending them from Isis. Photograph: Ed Kashi/ Ed Kashi/Corbis
Inside the lobby of Kurdistan's parliament, flanked by guards in traditional baggy trousers, is a giant portrait of Mustafa Barzani. The Barzanis have been fighting for Kurdish independence since the 1880s. They battled the Ottomans, the British and Baghdad. In a colourful life, including exile in Iran and the Soviet Union, Barzani tried to establish a Kurdish state. He died in 1979, in the US. Now, it seems, his moment has finally arrived.
On one floor, technocrats are discussing how to manage Kurdistan's enormous
oil
wealth. On another, the referendum announced last week by Barzani's son, Massoud, the current president of Iraqi Kurdistan, who asked the parliament to set up a new election commission. The vote – to be held later this year or early next – will determine whether disputed regions taken last month by Kurdish troops should join Kurdistan, and
sets the stage for Kurdistan's exit from a crumbling federal Iraq
.
"A greater Kurdistan is the dream of every Kurd. But for now we want to set up a state in this country," said Dr Farsat Sofi, an MP from Barzani's dynastic Kurdish Democratic Party (KDP). He added: "We never wanted to be in Iraq in the first place. It's been forced upon us." Sofi said the door was closing on agreement with Nouri al-Maliki, the prime minister in Baghdad, and his Shia-dominated government. "If he continues like this we will use this right to self-determination," he said.
---
"Kurdistan's enormous oil wealth." There was a time when Kurds we're hiding in caves from Saddam Hussein's chemical attacks, scratching out a meager existence. Now they are on the verge of having not only their own country, but one poised to be a major player in the world oil economy.
Wealth. Power. Just the ingredients needed for Jeremiah's prophecy of the "nations" of the "Medes" to come true here in our time.
Labels: Great nations of the north