US to directly arm Kurdish peshmerga forces in bid to thwart ISIS offensive

Monday 11 August 2014 | Spencer Ackerman in New York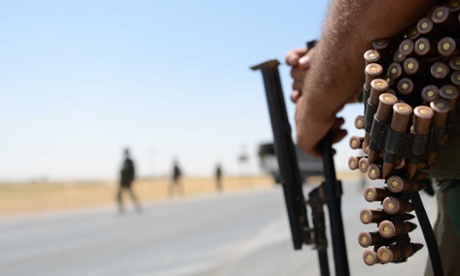 Several administrations have refrained from arming the peshmerga due to concerns about reprisals from Saddam Hussein and his successors. PHOTO: Anadolu Agency/Getty
The Obama administration has announced it will arm the militia forces of Iraqi Kurdistan, to prevent the fall of the final bastion of pro-US territory in Iraq.
The weaponry is said to be light arms and ammunition [...]
US officials say they are not currently considering providing Kurdish forces... with missiles, armored vehicles or helicopters. [...]
The idea of arming the Kurds has been the subject of weeks of internal deliberation and official silences by president Barack Obama's foreign policy advisers. It is a fateful step in Iraq's current crisis [...]
The danger is that arming the peshmerga will facilitate a permanent fragmentation of Iraq, something the Kurds consider a national aspiration [...]
READ MORE HERE...
---
Jeremiah prophesied the rise of the Medes -- modern-day Kurds -- into a great nation capable of attacking and defeating the "land of Babylon" -- modern-day Iraq. For the last ten years, this scenario seemed preposterous. Are we now seeing the military empowerment of Kurdistan, brought about by the nation with the most powerful military on earth?
Labels: Judgment 6 - Civil War