U.S. using Apache helicopters, Australia and Indians join fight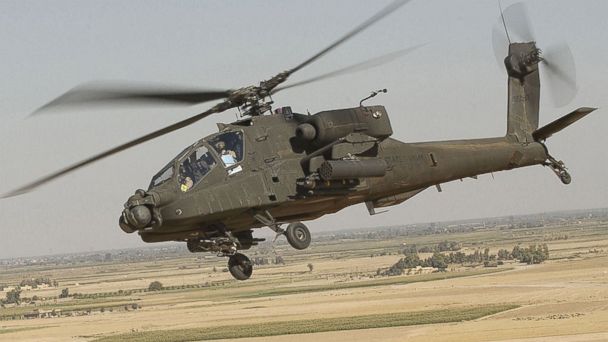 (Credit: Courtesy of U.S. Army, Tech. Sgt. Andy Dunaway/Wikimedia Commons)
In various news reports today, October 5th, 2014, we learn that the U.S. is now using Apache helicopters to attack Islamic State militants in Iraq (
READ HERE...
), while Australia has entered the conflict, providing air support with F/A-18F Super Hornet fighter jets (
READ HERE...
).
RAAF Super Hornets. Source: Supplied
Also, ABC.net.au reports that "200,000 Indians volunteer to join effort against Islamic State militants in Iraq," (
READ HERE...
).
It has already been reported that "Britain, Denmark and Belgium (have joined the) air campaign against (the) Islamic State in Iraq," (
READ HERE...
), as well as Turkey approving "military operations to fight Islamic State militants," (
READ HERE...
).
The Utah Peoples Post reported September 15, 2014 that the U.S. has formed "an international coalition fighting against the extremist group," (
READ HERE...
)
Jeremiah the prophet predicted that the invaders who occupied the land of Babylon, having broken her, would attempt to heal her, but then, because of fires in the cities, would give up, and abandon the nation to her judgment.
When the United States and other coalition forces pulled out of Iraq, it seemed this part of the prophecy would not be able to be fulfilled, since the prophesied abandonment would be announced as a failure at reconstruction. The pull out of 2011 was not framed in those terms, but was seen as a success at putting down rebellion and establishing a quasi-peace, along with a stable local government.
But now we see that the possibility of this abandonment judgment is once again restored, as a coalition of nations, led by a "great nation," have once again entered Iraq in an attempt to save her from destruction by insurgents attempting to conquer her.
If the cities of Iraq are set on fire, with the result the nations becoming "exhausted" with the futility of trying to "heal" her, and subsequently an announced abandonment of Iraq, then the next two judgments will have occurred in their order, fulfilling the first five prophecies of judgment on the land of Babylon -- invasion, capture, punishment, burning and abandonment.
With that, the certainty of the fulfillment of the final four judgments -- war with and defeat by the Medes, plunder, flood and drought leading to utter desolation -- will be assured.
Labels: Judgment 5 - Abandonment